SaferVPN
{$inline_image}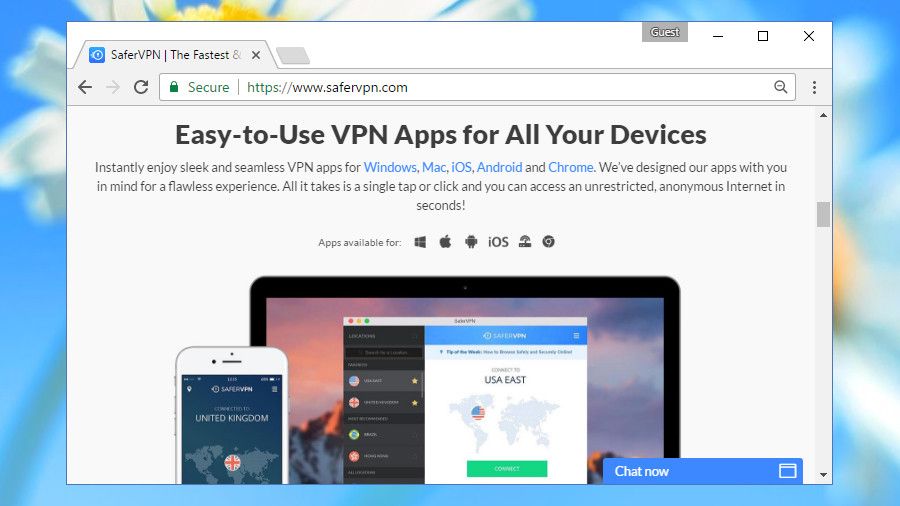 We've learned that you shouldn't judge a VPN from its website, but SaferVPN's well-designed and professional offering still gave us a very positive first impression.
This isn't about the glossy visuals and the unlikely headline, the 'fastest and simplest VPN'. But the site does look like some thought has gone into it, and scrolling down the front page quickly highlights some very appealing features: 400+ servers in 30 countries. Native apps for Windows, Mac, Android, iOS and Chrome. Automatic protection whenever you connect to insecure Wi-Fi, and 24/7 customer support via live chat or email if anything goes wrong.
Drill down and there's also some real detail to explore. SaferVPN doesn't just state that it supports IKEv2, OpenVPN, L2TP and PPTP, for instance – there's also a detailed web page explaining each protocol, when you should use it and when you really shouldn't.
This level of functionality normally comes at a high price, but that's not the case here. SaferVPN's one-month plan is a little high at $8.99 per month (£7.20, AU$11.75), but this drops to $5.99 (£4.80, AU$7.85) with the one-year plan, and only $3.49 (£2.80, AU$4.55) a month if you sign up for two years. There's also a free 24 hour trial to sample the service, with no restrictions on speed or server access.
Privacy
SaferVPN's website clearly displays the company's no logging policy: "We never log or monitor your VPN network traffic. What you do online is your business and we aim to keep it that way!" Sounds great, but it's not the whole story.
The service may not log your traffic, but it does record a great deal of session data: connect and disconnect times, bandwidth used, your incoming IP address and the IP address of the server allocated to you. That doesn't tell anyone what you're doing, but it's more information than many other services collect.
SaferVPN's other privacy policies are relatively ordinary. The company normally holds little personally-identifiable data, just your email address and some kind of payment ID (not your full bank or card details). And it uses Google Analytics and cookies on the website, but that's extremely common and doesn't affect VPN privacy.
The terms of service page is more interesting, especially the acceptable use policy. This explains that the service is for personal, non-commercial use only. Notably, torrents are not supported, at all, on any server. And beware, a very restrictive 'obscenity' clause says you must not "upload, post, or otherwise transmit any content which is obscene, indecent, or pornographic, or which is otherwise objectionable." Of course, we're 100% in favour of rules about illegal content, such as child pornography, but extending the rules so far that they could catch almost anyone is more of a problem.
Performance
Getting started with SaferVPN is exceptionally easy. Signing up requires just an email address, a link quickly arrived, clicking this verified our address and pointed us at the Windows client (Mac, Android, iOS and Chrome apps are also available), and it was installed within seconds. It's all very smooth and straightforward, with none of the manual setup hassles you'll often get elsewhere.
The Windows client is equally professional. A simple 'select a location, click connect' interface means even total novices will be up and running right away, but there are also lots of plusses for more experienced users. These include a Favourites system, and a quick search (type NE to see only Netherlands and New Zealand). There are also status details including IP address and connected time, protocol selection, automatic connections when you access an insecure network, and a VPN kill switch.
The package wasn't quite as impressive in real-world usage. You're only able to select a country, for instance, not a specific server. There's no indication of latency or status on the server list. By default Windows displays a UAC prompt every time you click Connect (you can run the program as an administrator to avoid this, but must sort this out yourself), and we found it took a few seconds longer to connect than with most other services.
Once we were online, in our tests* performance was generally very good. UK-UK download speeds were a little low at 20Mbps (overloaded servers?), but nearby European servers gave us 30Mbps as a minimum, and US speeds ranged from 30Mbps on the East Coast to 15-20Mbps on the West. Even Australia and Singapore connections gave us 12-20Mbps, and the only server which averaged below 10Mbps was Thailand (a lethargic 5Mbps, but we'd prefer that to no Thai server at all).
We rounded off our tests with a privacy check, and weren't surprised to see SaferVPN passed here, too, with DNS and WebRTC leaks safely plugged at all times.
Final verdict
The 'no torrents' ban is a definite downside, but otherwise SaferVPN is an appealing service: speedy, supremely easy-to-use, with lots of quality clients and a free access-all-areas 24-hour trial to check it out.
*Our testing included evaluating general performance (browsing, streaming video). We also used speedtest.net to measure latency, upload and download speeds, and then tested immediately again with the VPN turned off, to check for any difference (over several rounds of testing). We then compared these results to other VPN services we've reviewed. Of course, do note that VPN performance is difficult to measure as there are so many variables.
Source: {$feed_title)